SOUTHSEA SAINT BERNARDS
At Southsea Saint Bernards we put emphasis on Type, Temperament, Soundness and ETHICS.
RAALEPPO GOLDEN CLOGS
"TULIP"
D.O.B. 29 December, 2000.
Sire: New Edition VH Borgerbos IMP NDL "Nathan"
Dam: Australian Champion Lady Anzac "Jasmine"
Tulip, 13 months old
Best Puppy In Match - Close Encounters 2001.
NEW EDITION VH BORGERBOS (IMP NDL)
CH.KEEP IN TOUCH VH BORGERBOS (NDL)
FNL.CH.NDL.CH.SWD.CH.EMIR VH BORGERBOS (NDL)
INT.CH.DEIN HARDS OPHELIA BEARHEART (SWD)
CH.DEIN HARDS NEW DESIGN (SWD)
INT.CH.NORD.CH.DEIN HARDS YONDO THE LIGHT BALL (SWD)
DEIN HARDS RED SARA MAE (SWD)
AUST.CH.RAALEPPO LADY ANZAC
AUST.CH.RAALEPPO TORN AMBER
AUST.CH SOUTHSIDE SIR KONRAD
AUST.CH.SYLVENUS PLAIN BEAUTY
AUST.CH.RAALEPPO SAINTLY SAINT
AUST.CH.BERNEDALE JUST CONWAY (IMP NZ)
BERNEDALE LADY TITENE (IMP NZ)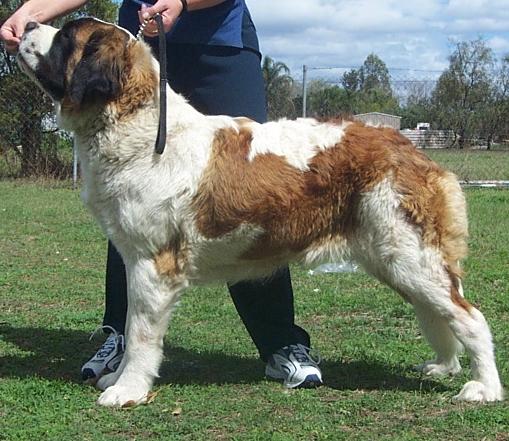 "Tulip" Raaleppo Golden Clogs aged 21 months. Best Junior Exhibit in Show - Mrs. Sue White (QLD) at the Saint Bernard Club of QLD Inc. 3rd Annual Open Show.